Dr. Robert Clarke Can Treat Your Whiplash Injury
Gentle chiropractic care at Health First Chiropractic Marysville has proven to be an excellent alternative treatment for whiplash, also called neck strain. Integrative techniques and therapies are applied to the neck to alleviate pain resulting from a musculoskeletal injury or misalignment of the cervical joints. Our Marysville chiropractor, Dr. Robert Clarke, can personalize a wellness plan to alleviate acute or chronic neck pain and improve neck mobility.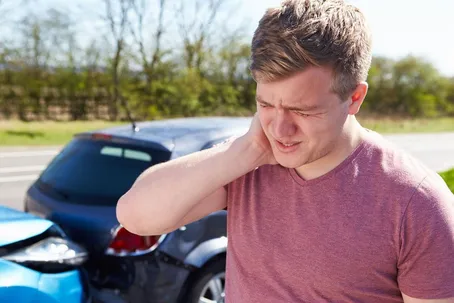 What is Whiplash?
In short, it is a common neck injury that can result in permanent damage or loss of mobility if it remains untreated. Whiplash happens mostly from auto accidents, but also occurs from physical violence and playing contact sports. During a car collision, the impact pushes the head and neck forward and backward at a rapid speed. The sudden violent movement stretches, strains, or tears the soft tissue in the neck. The cervical joints may also dislocate or misalign, or the disc may herniate and even pinch a nerve in the neck.
Typical Neck Strain Symptoms
• Neck pain and stiffness
• Reduced range of neck motion
• Pain feels worse when trying to move the neck
• Dizziness, blurred vision, or headaches that start from the base of the skull
• Swelling, tenderness, or pain in the upper back, shoulder, or arms
• Tingling or numbness in the arms due to nerve compression
It is not uncommon for people involved in an auto accident to skip medical attention, especially if there is no pain or visible injury. However, neck strain injuries are non-apparent and may cause symptoms 24 hours, days, or weeks later. In a case like this, getting urgent medical care or seeing our chiropractor in Marysville may be a wise decision.
Non-Surgical Whiplash Treatment from Our Chiropractor
Neck strain symptoms can interfere with everyday activities if the injury is not treated properly. While a neck brace, hot and cold therapy, and painkillers provide some relief, the underlying injury may continue to cause pain or restrict neck movements. We can determine the extent of the injury through a detailed physical exam and diagnostic evaluation and follow up with personalized chiropractic care.
The primary goal of treatment is to correct cervical joint dysfunction and increase range of motion. Dr. Robert Clarke may decide to perform a spinal manipulation technique to gently move the troubled joint back into position. Cervical adjustments have proven to provide effective relief for neck strain symptoms, particularly pain from a herniated disc or pinched nerve. We may also recommend massage therapy and corrective exercises to relax and strengthen the muscles.
Treat Accident Injuries Promptly at Health First Chiropractic Marysville
Health First Chiropractic Marysville provides auto accident and sports injury treatment to whiplash patients in Marysville, WA, and surrounding areas. You can still receive chiropractic care from Dr. Robert Clarke after receiving first aid or medical treatment from a doctor. Call (360) 658-1987 to schedule an appointment or request one online today!