Shoulder Pain and You
Shoulder pain is a very common complaint that comes through our doors at Health First Chiropractic Marysville. This condition can be caused by a variety of things, from injuries to medical complications to weak back muscles. However, many times we've found that this is due to issues with the skeleton, particularly the spine and its alignment.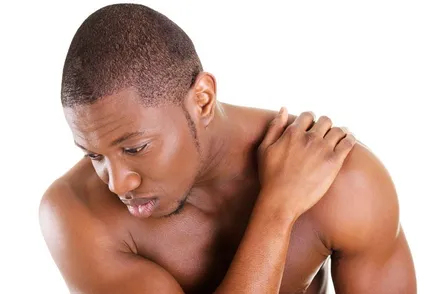 Common Causes for Shoulder Pain
Injuries
The soft tissues of the shoulder may have suffered an injury of some kind. This could be from training for or playing sports, a car accident, slipping and falling, a dislocation that had to be pushed back into place, etc.
Inflammation
One common source of shoulder inflammation is shoulder bursitis. The bursa is a small pocket of fluid that insulates your shoulder tendon from the bone. If the bursa is inflamed, the area may become stiffened and painfully irritated. Inflammation can be triggered by one of the above injuries and linger on during the healing process.
Arthritis
Arthritis is commonly associated with the hands and feet, but it can attack any joint in the body. The pain and stiffness of arthritis tends to worsen over time. However, these symptoms can be improved with the right treatment.
Postural Issues
When the spine is thrown out of alignment, it puts excess pressure on some parts of the body. Shoulder pain here sometimes shows up on one side only, for example if the postural problem is due to scoliosis. If you have a generally weak back or do a lot of sitting, you may slump and experience shoulder pain on both sides.
How Do Chiropractors Treat Shoulder Pain?
Your chiropractor will talk to you about the issues you've been having and assess your shoulder problem. They may check whether you're standing straight, if you can lift the affected arm, carry objects, etc. The chiropractor may also look for swelling, bruising, or other signs of inflammation of the shoulder joint.
Once your chiropractor has worked out what is causing your shoulder pain, discuss with you a plan of care. This could include some combination of joint manipulation, spinal realignment, massage therapy, and at-home exercises for you. These exercises may include:
• stretches
• strength training
• gentle movements
• self-massage
• hot soaks in the tub
• alternative therapies
The chiropractor will let you know how often to perform these exercises for optimum pain relief and injury recovery.
Do You Need a Chiropractor for Your Shoulder Pain?
Our chiropractic team has the training and experience to help you with this stubborn issue. We will work with you during every step of the recovery process, whether you end up needing just one visit or long-term treatment. Contact us at Health First Chiropractic Marysville to schedule a consultation.