Carpal Tunnel Syndrome
Carpal tunnel syndrome is a condition that affects 1% to 5% of the population. It is caused by pressure on the median nerve that results in numbness, tingling, and weakness in the hand and arm. It can occur at any age, but most often affects individuals between the ages of 40 and 60.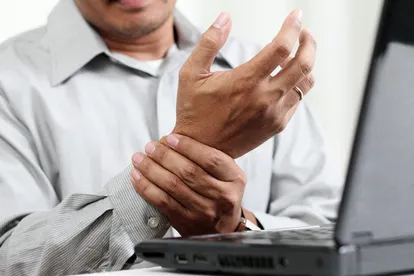 The symptoms of carpal tunnel syndrome include tingling and numbness in the fingers and hand, most often in the middle or ring fingers. Often, the sensation can travel up your wrist or arm. Some individuals that struggle with carpal tunnel also have weakness in their hand that causes them to drop objects.
In some cases, a person will develop carpal tunnel syndrome in both hands. If it occurs in only one hand, it is likely to be the dominant hand or the hand used for writing. If you are struggling with carpal tunnel syndrome and need treatment for the condition, our team at Health First Chiropractic Marysville can develop a treatment plan that will provide pain relief and support your recovery.
The Causes of Carpal Tunnel Syndrome
There are several causes of carpal tunnel syndrome. It can be hereditary or flare up during pregnancy, during which hormonal changes can lead to swelling. Carpal tunnel syndrome can also be caused by repetitive hand use that aggravates the wrist and causes swelling leading to pressure on the median nerve. Activities that involve the extension of the hand and wrist for a prolonged period can also lead to pressure on the nerve and cause carpal tunnel syndrome.
Chiropractic Care Helps with Carpal Tunnel Syndrome
If your carpal tunnel syndrome is interfering with your daily life, it is time to find help. Chiropractic care is a non-invasive way to treat carpal tunnel syndrome. Our treatment plans include a combination of the following:
• Chiropractic manipulations and adjustments in the hand, wrists, arm, and even the back
• Mobilization of your wrist and hand
• Instructions for specific stretching and strengthening exercises
• Cold packs to reduce the swelling
• Ultrasound therapy uses focused sound waves to penetrate deep into the tissue
Get Treatment for Your Carpel Tunnel Syndrome in Marysville, WA
If you are experiencing any of the symptoms of carpal tunnel syndrome, we highly recommend seeing a skilled and experienced chiropractor. Contact our team at Health First Chiropractic Marysville today at (360) 658-1987 to schedule a consultation with Dr. Clarke.