At Health First Chiropractic in Marysville, WA, we want our patients to achieve natural relief from any health-related issues they may be experiencing. One of the most common conditions we treat at our clinic is sciatica. Dr. Robert Clarke, DC, has dedicated his career to helping his patients break free from the effects of sciatica without the use of medications with harmful side effects or invasive procedures. We will work to diagnose and treat the root cause of your sciatica and prevent it from reoccurring.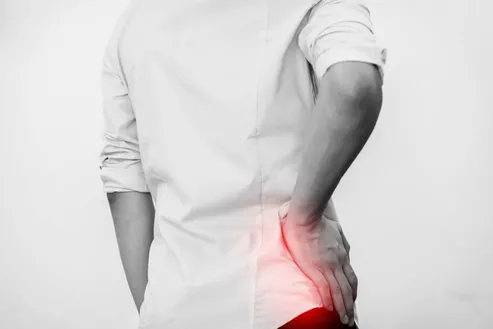 What Is Sciatica?
The sciatic nerve is the longest nerve of the human body, traveling from the lower back, down the leg, and into the foot. Excessive pressure on this nerve or an injury at any point along its path can lead to sciatica. This condition can occur due to bulging or herniated discs compressing the sciatic nerve, spinal stenosis, past trauma to the spine, or osteoarthritis.
Symptoms of Sciatica
Patients often experience radiating pain, numbness, or tingling down the leg and in the lower back when suffering from sciatica. Pain can also extend all the way into the foot and worsen when standing, walking, or sitting for too long. Patients also experience pain that suddenly worsens when coughing or sneezing.
Risk Factors for Sciatica
If you've had a previous back injury, this can put you at risk of developing sciatica. Other risk factors include:
• Obesity
• Smoking
• Old age
• Poor posture
• Weak core
• Diabetes
• Osteoarthritis
• An active labor job
How Can a Chiropractor Help?
Sciatica flare-ups can be incredibly debilitating, causing shooting pain and symptoms that just don't seem to go away. However, your lower back and leg pain might also be caused by another ailment. That's why it's essential to schedule an appointment with our chiropractor for a thorough assessment of your current condition. Dr. Clarke can rule out any potential conditions and provide a personalized treatment plan for your sciatica. Treatment options we offer for sciatica include:
• Spinal decompression
• Chiropractic adjustments
• Manual adjustments
• Muscle stretching exercises
• Lifestyle advice
Visit Us for Chiropractic Care for Sciatica in Marysville, WA
Our chiropractor has the knowledge and experience to effectively treat your sciatica. At Health First Chiropractic, we want to help our Marysville community residents feel relief from chronic and acute pain. Call us today to set up an appointment with Dr. Clarke and our friendly staff by calling us at (360) 658-1987.